Managing Anger
Anger: A Secondary Emotion

Anger Iceberg
Anger is often called a secondary emotion because we tend to resort to anger in order to protect ourselves from or cover up other vulnerable feelings. A primary feeling is what is what is felt immediately before we feel anger. We almost always feel something else first before we get angry.
We might first feel afraid, attacked, offended, disrespected, forced, trapped, or pressured. If any of these feelings are intense enough, we think of the emotion as anger.
As the drawing below illustrates, anger is like an iceberg in that only some of the emotions are visible. The other emotions exist "below the water line" where they are not immediately obvious to outside observers.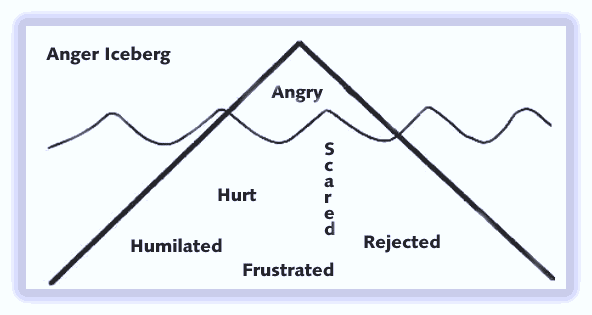 Image from Men For Change, The Online Healthy Relationships Project, 1998 
Licensed under the Creative Commons Attribution Non-commercial Share Alike 3.0 License
Brought to you by CReducation.org