Policymakers and Administrators
Welcome to the Conflict Resolution Education Connection's resources for policymakers and administrators. Our goal is to provide information that will support administrators interested in promoting or extending conflict resolution work within education. The sidebar menu to your right provides a listing of the content areas we focus on at this site.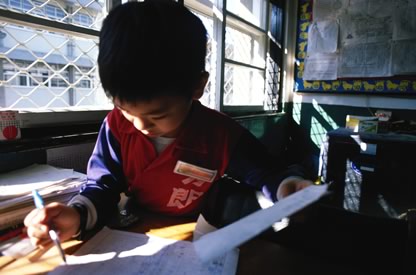 CRE Conference Presentations
---
---
---
---
---
---
Sample Catalog Resources
Below you'll find a randomized listing of up to 20 related items (we may have more...) drawn from our Resource Catalog.

| Resource Title | Description | Links |
| --- | --- | --- |
| CRETE Project Overview (April 2010) | An overview of the Conflict Resolution Education in Teacher Education (CRETE) initiative as of April 2010. The document reviews the need for CRETE and provides a list of current partners and a history of funding support for the initiative. | |
| Short course offerings on peace education: 2007-2008 academic year in Costa Rica | Two page pdf document with course offerings and descriptions for the 2007-2008 school year at the University for Peace in Costa Rica. | |
| PeaceKidz manual | 101-page Word document created by PeacekidZ, "a program that aims to develop children's ability to understand, analyze and resolve conflicts in their everyday lives. PeacekidZ teaches children the three R's of conflict resolution: recognize, respect, resolve." "Through each year of PeaceKidZ, each group of SAIS student teachers builds a curriculum detailing the lessons and activities they taught during the course of the nine-week program. They then compile these into a final document. The Conflict Management Toolkit will assemble and offer these curricula as a resource for other universities and outreach programs that are interested in developing similar programs. We will also provide a bibliography with more detailed books and resources on teaching. Currently, the manual from the first year of PeaceKidZ and a bibliography of the materials SAIS students consult to design the program are available for download." | |
| 10 challenges facing campus mediation programs | Pdf article from Conflict Management in Higher Education Report, Volume 2, Number 2, (Feb 2002), which discusses the role and challenges among college mediation programs based on interviews with university campus mediation programs, and then "extrapolating examples to look at the larger issues facing these programs." | |
| A Peer Mediation Needs Analysis For Schools | A three-page worksheet providing a series of questions for schools to consider prior to implementing a peer mediation program. | |
| Mediation: An effective way to restore collegiality & shared governance in dysfunctional university | Pdf article from Conflict Management in Higher Education Report, Volume 3, Number 1, (Oct 2002), which discusses the use of mediation to settle disputes among university personnel and reestablish collegiality. | |
| Inter-agency P.E.P.: Skills for constructive living: Facilitators and trainers training guide | 13-page pdf manual which is "one of the components of the "Inter-agency Peace Education Programme." "The programme is designed for education managers of ministries dealing with both formal and non-formal education and for agencies which implement education activies on behalf of the government ... This training guide in peace education is divided into four areas: content, method, environment (both physical and psychological) and output (or product). Often method and psychological are dealt with together as there is overlap." | |
| Evolution of the Role of Ombudsperson on University and College Campuses, The | Pdf article reprinted from the February/March 1995 Issue (Vol 55) of The Fourth R, The Newsletter of the National Association for Mediation in Education which discusses the history and role of ombuds people in colleges and universities. | |
| Addressing off-campus student conduct with restorative justice | Pdf article from Conflict Management in Higher Education Report, Volume 6, Number 1, (Nov 2005), which introduces a program where "over 200 students ... participated in restorative justice, meeting face-to-face with community members, fellow students, and campus staff to resolve their cases at the neighborhood level, the results of their conference agreements include hundreds of hours of service in the neighborhoods affected (picking up litter, tutoring at a gradeschool, volunteering at the local library, serving meals to the homeless, etc.), plus written apologies, verbal apologies to neighborhood boards, outreach and education efforts on campus, and in some cases, self-help such as chemical dependency counseling." | |
| Making things right: Restorative justice comes to campuses | Pdf article from Conflict Management in Higher Education Report, Volume 1, Number 1, (Jan/Feb 2000), discussing the use of restorative justice principles for "creative options to traditional justice systems, options which are flexible enough to allow positive productive responses to a variety of offenses or violations and which also meet the unique needs of the University community." | |
| Truancy prevention through mediation program | 9-page Powerpoint presentation given at the Second International Summit on Conflict Resolution Education, which "provide[s] an understanding of the structure, philosophy, and value of early intervention truancy mediation as it is practiced in Ohio, the role of the schools, juvenile court, social service agencies, charities, and other entities will be discussed along with information on how to start a program in a community, potential funding sources, the role and training of the mediators, and other relevant material. | |
| 25 years: Looking back and looking ahead | 20-page Powerpoint keynote address given at the Sustaining Conflict Resolution Education: Building Bridges to the Future conference in Fairfax, VA, which reviewed "the CRE field from the vantage point of Educators for Social Responsibility (ESR)." | |
| Restorative conferences resource kit | 60-page pdf resource kit for presenting restorative conferences which "(involves the gathering of those who have a stake in a particular troublesome situation, to talk together to find ways of making amends) ... the purpose of these conferences is to discuss what the problem might be and to pool ideas about what might be most helpful from here, for all concerned, from this pool of ideas should emerge a plan for restoration of the situation... These Conferences offer a helpful step forward by involving a range of participants who both contribute to and are affected by the situation at hand, they promote a spirit of open and direct conversation and add a human touch to the process of addressing transgressions... this Resource Kit represents the culmination of 18 months of work by a group whose links are with restorative justice, Maori protocols, and counsellor training with narrative therapy at the University of Waikato." Includes bibliography | |
| Conflict resolution education and peace education: Proven impacts | 25-slide Powerpoint presentation which presents a "review of research examining the impact of conflict resolution education and peace education in schools." | |
| Intake hints | Pdf article from Conflict Management in Higher Education Report, Volume 2, Number 2, (Feb 2002), which examines intake procedures and scheduling issues for community mediation, based on work done by "Neighborhood Dispute Settlement Program of Dauphin County (Harrisburg, Pennsylvania), ... a community mediation program which receives referrals from criminal justice entities." | |
| Peace education curriculum: Programa pendidiken damai (pdf) | 84-page pdf translation of the Indonesian "Kurikulum Pendidikan Damai" which "was the first of its kind to be developed in Indonesia, representing peace education from an Islamic and Acehnese perspective. It promotes a positive, comprehensive peace encompassing peaceful relations with God the Creator, with oneself, with one's fellow humans, and with the environment. The curriculum teaches communal peace in accordance with the positive Islamic approach, namely the absence of war and discrimination and the necessity of justice in society. This manual emphasizes that peace is neither a subjugation to situations nor a passive acceptance of injustice, discrimination, and war, but rather a recognition of these problems and addressing them in a peaceful manner. The curriculum also stresses the importance of process and ends, since peace is both process and results, as reflected in active involvement of students in a system of learning by doing ... The materials and learning activities were authored in such a manner to allow the students dominant roles in the learning process. The students are guided to observe, analyze, and seek for solutions to existing conflicts. We feel that this strategy can better improve the students' knowledge on conflict and peace, build their skills in managing conflicts without violence, and actualize them all in their real life." | |
| PROS: Peaceful resolutions for Oklahoma [high school] students: Student edition | 46-page PDF high school student manual designed to teach peer-mediation techniques as well as communication skills, leadership and problem solving. | |
| World of possibilities: CRE and peace education around the globe, A | 34-page Powerpoint presentation given at the Sustaining Conflict Resolution Education: Building Bridges to the Future conference in Fairfax, VA, which "presents summaries of several important activities related to global expansion of conflict resolution education and peace education." | |
| Teaching about conflict through citizenship education | 18-page pdf article which examined "Through interviews and observations in case study primary and secondary schools in the West Midlands, we therefore explored what was understood by this notion of global citizenship, and under this umbrella, what it was that students and teachers thought should be learned, we found that the most outstanding concern for students was war and conflict – and in the current context, not just historically, after giving some detail of these concerns, this paper attempts to develop a typology of different ways that schools teach about conflict before making more general arguments about the importance of peace education within a citizenship education framework and the role of teachers in tackling both difference and indifference." | |
| Summary - The Positive impact of social & emotional learning kindergarten to eighth grade students | 12-page PDF report which, "summarizes results from three large-scale reviews of research on the impact of social and emotional learning (SEL) programs on elementary and middle-school students — that is, programs that seek to promote various aocial and emotional skills. Collectively the three reviews included 317 studies and involved 324,303 children. SEL programs yielded multiple benefits in each review and were effective in both school and after-school settings and for students with and without behavioral and emotional problems. They were also effective across the K-8 grade range and for racially and ethnically diverse students from urban, rural, and suburban settings. SEL programs improved students' social-emotional skills, attitudes about self and others, connection to school, positive social behavior, and academic performance; they also reduced students' conduct problems and emotional distress. Comparing results from these reviews to findings obtained in reviews of interventions by other research teams suggests that SEL programs are among the most successful youth-development programs offered to school-age youth. Furthermore, school staff (e.g., teachers, student support staff) carried out SEL programs effectively, indicating that they can be incorporated into routine educational practice. In addition, SEL programming improved students' academic performance by 11 to 17 percentile points across the three reviews, indicating that they offer students a practical educational benefit. Given these positive findings, we recommend that federal, state, and local policies and practices encourage the broad implementation of well-designed, evidence-based SEL programs during and after school." | |